Can't say enough about them, and I've always had a penchant for picking up someones zine in just about every town I've traveled to. Got some great ones in the collection, and even some that have gone on to become bonified regular publications (Rockrgirl, Big Time, etc.) I heard a theory that blogs are the new zines, and I'm thinking I might halfway agree with that.
Some of the more notables are listed below:
Dishwasher
- 'Dishwasher Pete's' account of holding dishwashing jobs in all 50 states:
Punk
- This was published back in 1974, and is credited as coining the term 'Punk' for the young genre at the time. Legs McNeil and John Holstrom published this 4 times a year, and featured interviews, reviews, cartoons, photos. This issue I own even has a 'Deborah Harry' centerfold (clothed...).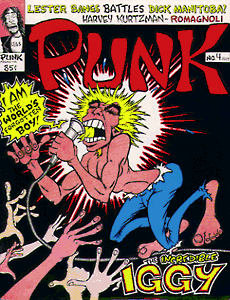 IGT Magazine
- Though Ive written this up on these blog pages, I still find myself amazed at this one. For myself, this was one of the first graffiti magazines I'd ever come across. The format was like a newspaper, full color cover, inserts, and featured awesome pics mostly from Vulcan and Phase II's collection. If you can get past some of the well intentioned rantings printed, this was a true piece of art.
Fresh! Magazine
This one holds a place in my heart as it's one of the original Santa Cruz zines. And being in the spirit of Santa Cruz productivity, the magazine took 4 YEARS to make. That wins the award of laziest publishers on Earth! Funny articles, reviews, write-ups and the like.